I spent a good chunk of Thanksgiving week working on a new fantasy dog calendar for 2013. We took a lot of photos this year, so it was difficult to pick which ones to use. Plus I wanted to make sure that every dog got their featured time in the sun.
Otherwise, there would be many cries of indignation at the terrible injustice! 😀
After much fussing and a lot of negotiation, mostly involving bully sticks, we finally came to an agreement on the final twelve pictures. So here it is, our fantasy dog calendar for 2013.
Fantasy Dog Calendar
by
shibashake
Design
custom calendars
at Zazzle.
Pictures we used in the calendar –
I like it a lot more than the previous fantasy calendar. Hope it looks good in print!
I also made a Dog Christmas card featuring Sephy and Shania wearing Santa hats.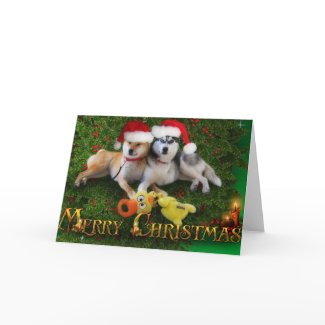 Dog Merry Christmas Card
by
shibashake
Find more
note cards online
at zazzle.com
Thanks for visiting with Sephy, Shania and Lara. Happy Holidays to you all!